Presentations & Programs for the Spiritually Minded
In Thanksgiving for Freedom of Soul...
"There is nothing I will ever have that can repay God in Heaven for the Freedom I've received for my eternal soul and no words which can even begin to express my appreciation for those who have served in harm's way in safeguarding my Liberty & Safety on earth, but I hope to honor and remember all by offering back whatever my Creator has given me for as long as I am able and in the ways that The Spirit of the Lord is leading." - Ann M. Wolf
— Servant to God & supporter of others as we travel this road of life together
Welcome!
This page offers non-denominational spiritual support resources & program ideas for ministers, cell-ministries, chaplains, individual seekers, and event planners. These options include ceremonies, music, videos, study content and service ideas. Scroll to learn more.
Note to Spiritual Leaders
From Chaplain Ann M. Wolf
"As Chaplains, Counselors, Cell-Ministry Leaders & Healing or Hospice facilitators, we offer spiritual & emotional support impartially, regardless of the religious, cultural, or denominational background of those in our care.  We also pray for each precious soul sent to us as we submit ourselves to the discipline of spiritual growth & the constancy of study. We seek Divine guidance via the Spirit of God as we continue to walk in Mercy while holding to Grace. Join with me in celebration of our Unity via the Spirit, as we serve God together." 
Chaplain Ann M. Wolf
Programs that uplift, motivate & inspire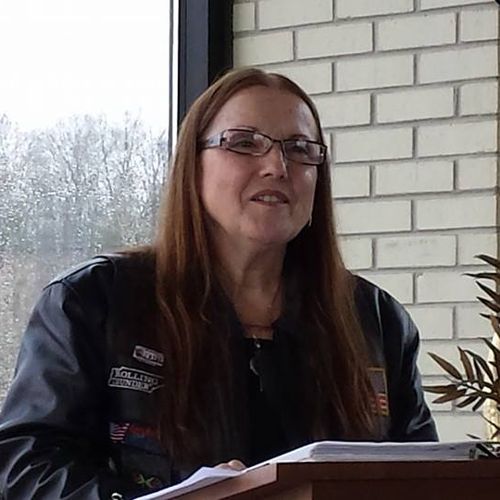 Faith-Based Services
musical message
Ann blends special songs with a relevant message about what it means to walk in Mercy as we embrace Grace. Her Guided Study Plan, "Becoming the Church," can become part of the discussion or offered in addition to a service as a workshop.
Cutting edge Christian Music: Her musical genre's include Gospel Blues, Rock, Reggae, Country, Cajun, and AC, as well as contemporary covers & classic hymns. Ann has been described by leaders in Gospel Blues as one of the Grandmothers of alternative Christian Music since she has dared for decades to write and perform in styles often regarded as too worldly for spiritual audiences, but which give the testimony of healing through Grace in raw and authentic fashion.
For an example of her work, watch Ann's Biker Blues Video, "Sunday Feelin' All Week Long," as well as her music video, "Dirty Patches & Faded Tattoos" describing the good works being done by Bikers around the world.
Becoming the Church Guided Study Experience